150th Variety Concert
November 5, 2022 @ 2:00 pm

-

4:30 pm

NZDT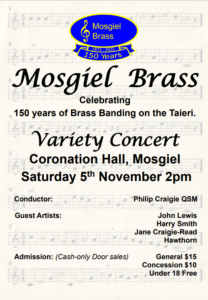 This celebratory concert will be compered by Daryl Read.   Philip Craigie QSM will conduct the band with a programme that will showcase the band's varied repertoire and its players.  The band will be joined by guest soloists and supported by local performers.  The programme will contain something for everyone from traditional Brass Band music to easy listening oval harmony.
Guest Soloists
John Lewis
John has won numerous national and international championship titles.  He was principal cornet in five consecutive National Bands of New Zealand (2005-2017) and, for five years, played with the Brighouse and Rastrick Band in England.  John often joins us on a practice night and regularly plays with the band during the Christmas concert season.
We are grateful for John's continued support and mentoring and we are humbled that he has agreed to join us a guest soloist for our celebrations.
Harry Smith
Harry joined Mosgiel Brass as a schoolboy and after progressing through the national secondary school and youth bands (including being appointed principal euphonium of the 2020 National Youth Band of New Zealand), now occupies the principal euphonium seat in St Kilda Brass.
We are delighted, and proud, to have Harry come back to his banding roots as a guest soloist in our sesquicentennial concert.  It will be a special night for Harry.  He is coming back to his banding roots to join us, but its also a special visit as his Mum, Cath, plays repiano cornet in Mosgiel Brass.
Special Guests
Jane Craigie-Read
Jane is a regular variety concert guest who has had a long career in theatre musicals.  As a vocalist, Jane is the only one of her Craigie family generation who has not taken up brass banding.  However, she more than compensates as an accomplished character actress/vocalist.
Hawthorn
Hawthorn regularly appears as guest performers when the brass band is hosting a variety concert.  Formed almost 40 years ago, Hawthorn has an easy listening style with vocals reminiscent of Peter, Paul and Mary and The Seekers.  Hawthorn performs a variety of genres from folk through country and pop as well as some original material.
Vocalist Jann Cain is Mosgiel born and bred.  Bass guitarist/vocalist Virginia Dyer is from a well-known banding family associated with Oamaru, Invercargill and Christchurch that includes national champions and ex-members of the National Brass Band, while vocalist/guitarist John Seddon is a well-known local businessman and Rotarian. Vocalist/guitarist Grant Shackell also plays cornet in Mosgiel Brass and started his brass banding career at Waimataitai Primary School in Timaru over 60 years ago.